Coconut Trees in a Fight For Their Lives
By Lester Changtgi- Staff Writer, 15 Dec 2000, The Garden Island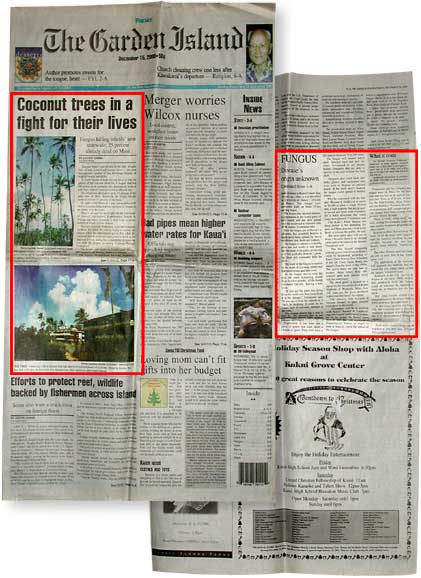 Imagine Kaua'i and the rest of the state stripped bare of lush, palm-frond coconut trees – the most recognizable symbol of the Hawaiian Islands, of tropical beauty and aloha.
It could happen if steps are not taken to halt the spread of the coconut heart rot, a fungus that has killed trees at an alarming rate, particularly in areas with high rainfall, state agricultural officials say.
The blight has decimated up to 25 percent of the palm trees on Maui. Statewide, the fungus has hit between 10 and 15 percent of the trees. At stake is the future of a tree synonymous with Hawai'i and has helped attract millions of visitors to its shores over the years.
There is no cure for the blight, but the University of Hawai'i Agricultural Experimental Station in Wailua has begun research to find ways to either control or stamp out the disease.
Hawai'i Coconut Protectors, a private company on Maui, has taken the lead in trying to contain the disease while the experiments go on. For a fee, the company injects a nutrient into a tree to shore up its immune system, acting like a shield that protects the tree from the fungus, according to owner Philippe Visintainer.
The process only works on healthy trees. Once a tree contracts the disease, death is a certainty. The fungus, Phytophthora katsurae, apparently made its home in Hawai'i more than 30 years ago, when it was identified by University of Hawai'i officials on Kaua'i. The fungus later entrenched itself on Maui, O'ahu and Big Island.